Heal Your Mouth from Cavities and Disease with Our One-of-a-Kind Course
Watch the video to learn more.

I'm doing something I've never done before.Lowering the price of my course to
$37/mo!
WHY?! Because as someone who has helped thousands of families and individuals, I know how many people stress out during this time of the year when it comes to parties and sugary treats. Holidays can be hard.
Mamma, I feel ya

It's bad! And if you're someone that is trying to deal with healing a mouth you care for, you too should be nervous. I don't mean to scare you, but I also want to tell you like it is so you can see why I want to help.
For the remainder of 2019 I am lowering the cost of my course to help you jump in without the fear of commitment and high ticket courses that have you thinking you won't be able to afford this AND the holidays.
I see so many people in fear of spending money on courses this time of the year, so I want to help you, and so do our sponsors. Not only are we helping you save money, we are going to be doing amazing giveaways in the group over the next few months!
I can't wait to see you on the inside, keep reading to learn more about the program.
*Back by popular demand*
I've brought back the payment option for lifetime access to the program and group, because SO many people are requesting it!
The choice is yours! Monthly membership OR Lifetime access. YOU decide!
Why You're Going to LOVE
This Coaching Program
Introducing the Healing Your Mouth Naturally Coaching Program by Oral Health Coaching. A self-paced, on-demand online course all about how to heal your mouth and mouths you take care for from the inside out. Best of all, it includes a private Facebook support group where so many amazing things happen!
Learn how to control and heal cavities/gum disease and enjoy the process of having someone guide you through the steps!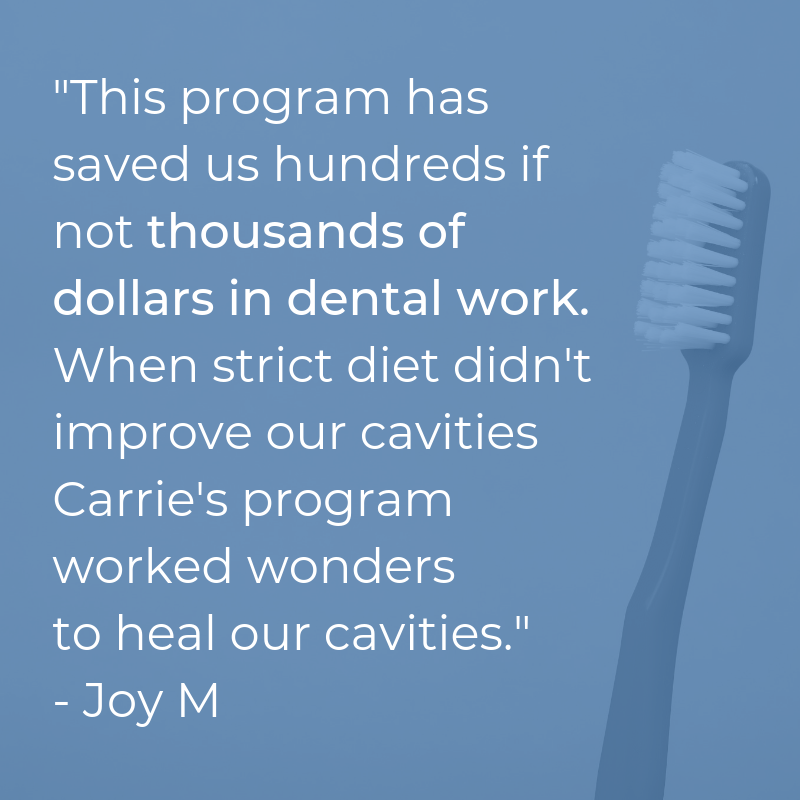 I know that many of you are skeptical about what you might have heard from other blogs about fluoride and often the "special diets". FINALLY, you can stop running from solution to solution, guru to guru, one fake promise to the next and actually start seeing results. This course is everything BUT those things!
Instead of causing fear or confusion, my course is designed to encourage you with simple, actionable steps you and your family can take. In fact, I'll even teach you which special candies help to stop cavities and how to incorporate them into your life if that helps too ;)
The Heal Your Mouth Naturally Coaching Program is THE ONLY system that helps you break-free from the cycle of mouth disease and dental issues for your family where you get to work with a dental professional that has the time to help you understand why dental issues happen and how to heal them naturally.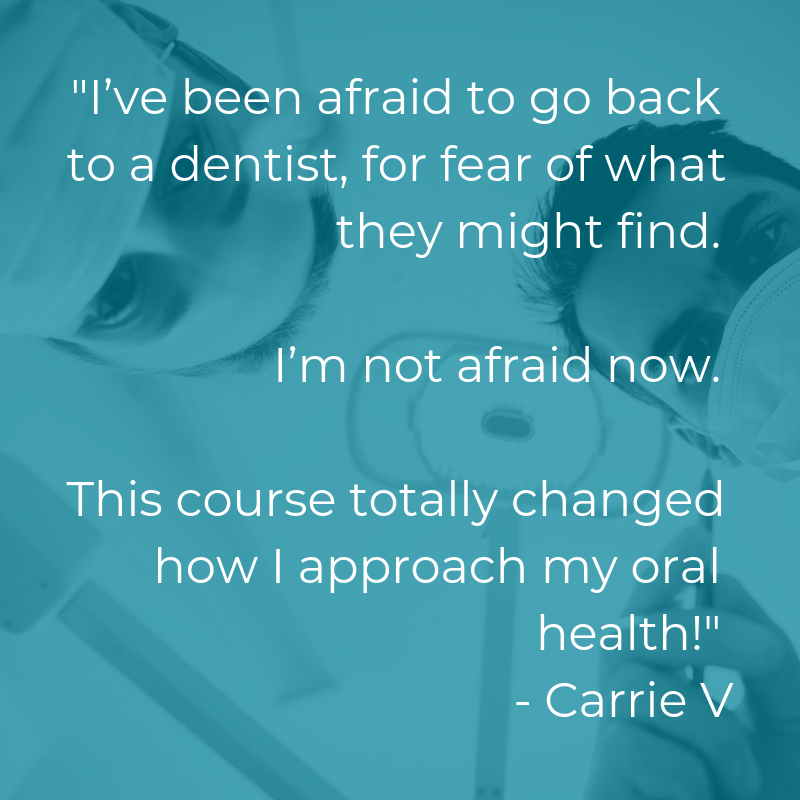 When you invest in The Naturally Heal Your Mouth Coaching Program, you get access to other people who have healed their mouths, and professionals who believe you can heal your mouth too. Best of all, you get to feel supported in finding answers and natural solutions to your oral health concerns.
Now THAT is worth every single penny!
Don't you think?
Featured in: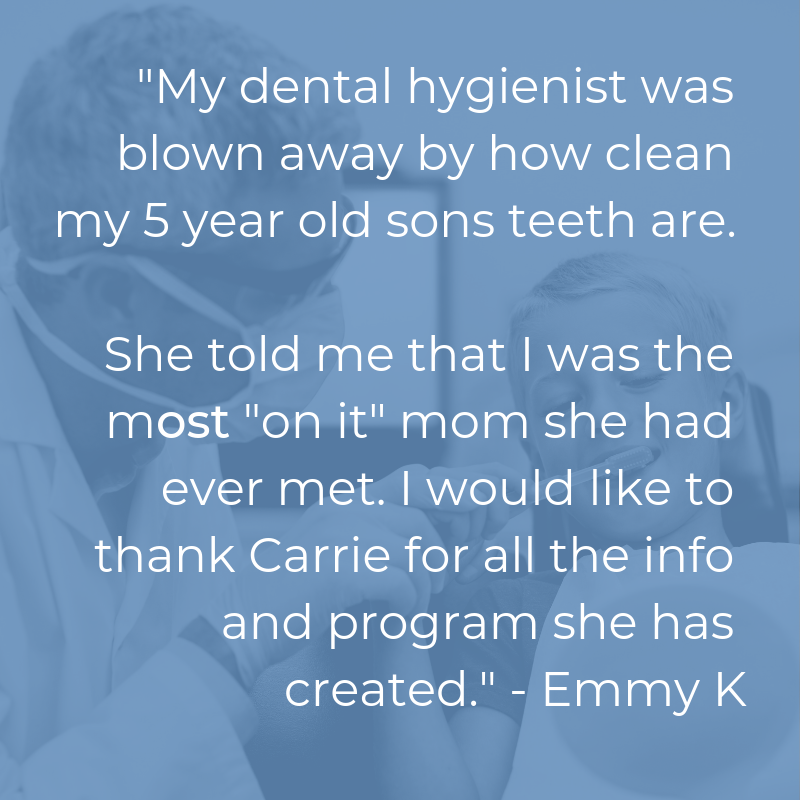 Your monthly membership includes:
Option to add a starter kit (details on "Thank You" page once you've enrolled).
Option to purchase 1:1 coaching (details on "Thank You" page once you've enrolled).
The private Facebook Support Group with weekly live Q&As.
Our extensive library of oral health resources.
Tips specifically for parents on how to heal and care for a child's mouth.
Entire course including materials, lectures, and video content including an entire section for caretakers and parents.
Access prizes and free samples during customer-exclusive giveaways, contests, and quizzes.
Access to exclusive BONUS features from my network of leading oral health experts.

Starter Kit:

For an additional fee to the course, add this care package from me filled with multiple brushes, tools, and a plethora of sample products including (but not limited to) xylitol, rinses, pH-neutralizing products, disclosing products, mouth mirror and testing tools. Enough supplies for one student to get started.

I've packaged together many of the products that I go over in our course, because some of them can be challenging for students to find.

This seriously helps my students get started the right way! Value for starter kit alone is $60 (USA shipping only)

1:1 Oral Health Coaching Sessions:

For an additional fee to the course, one on one coaching sessions can be added. This is a great way to look at your specific needs and determine a course of action that will have you streamlining the info you use in the course. These sessions take place over Zoom, and are recorded so you can revisit the information.

Coming Soon! Working with other professionals:

In this course, a lot of what we do is talk about the many pieces of the puzzle that you need to look at. Soon we will have a library of work with other professionals that you can purchase to help you work through the issues you are trying to heal.
Why do I care so much about Oral Health to create this course?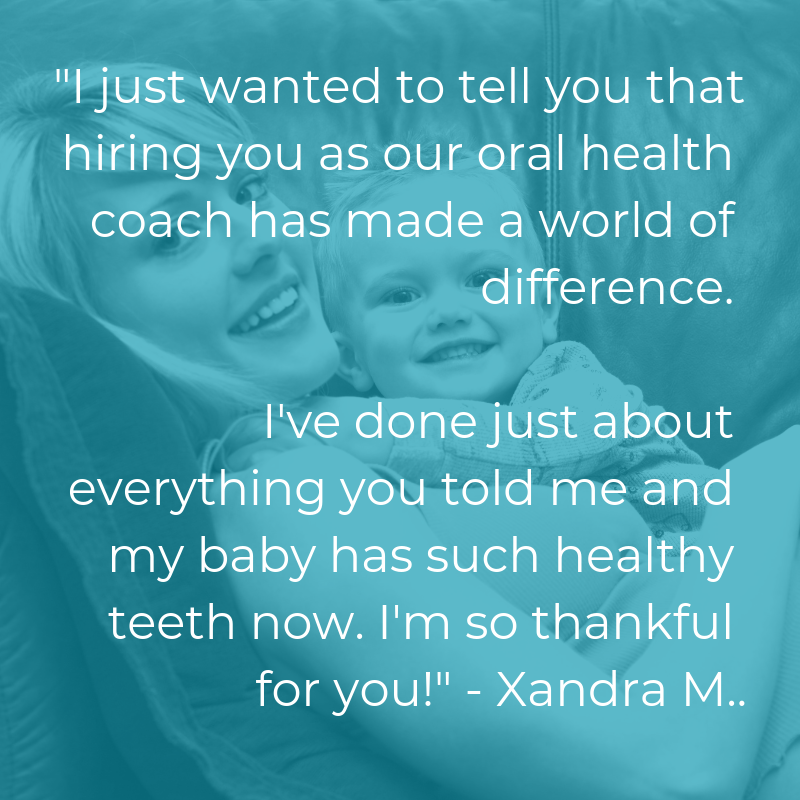 I remember clearly what it was like having dental issues. My childhood and early adult years were spent in the dental chair getting fillings and painful cleanings. By the time I was 14, I had already had my first root canal and crown.
Like most people, I was either shamed for what I was not doing at home (typically flossing), or told that I suffered with "soft teeth" inherited from my family….lucky me.
I entered the dental field as a profession. Working as a dental assistant and dental hygienist for years taught me one thing: we were busy treating disease, and not teaching people the techniques to actually prevent disease on their own.
Having a healthy mouth isn't rocket science, but it is technique sensitive AND it often involves using more than one tool.
The good news is that you can learn how to use different tools throughout the week. This means less time cleaning your mouth, less dental work, and better overall health.
Here's the truth. If you use the same dental tools the same way every day, you miss the same spots every day, which results in bacteria build up.
This bacteria build-up is what creates disease in your mouth….some people get cavities, some get gum disease…a few unlucky souls get both.
It doesn't have to be this way. You do not have to suffer, and you do not need to have continued disease.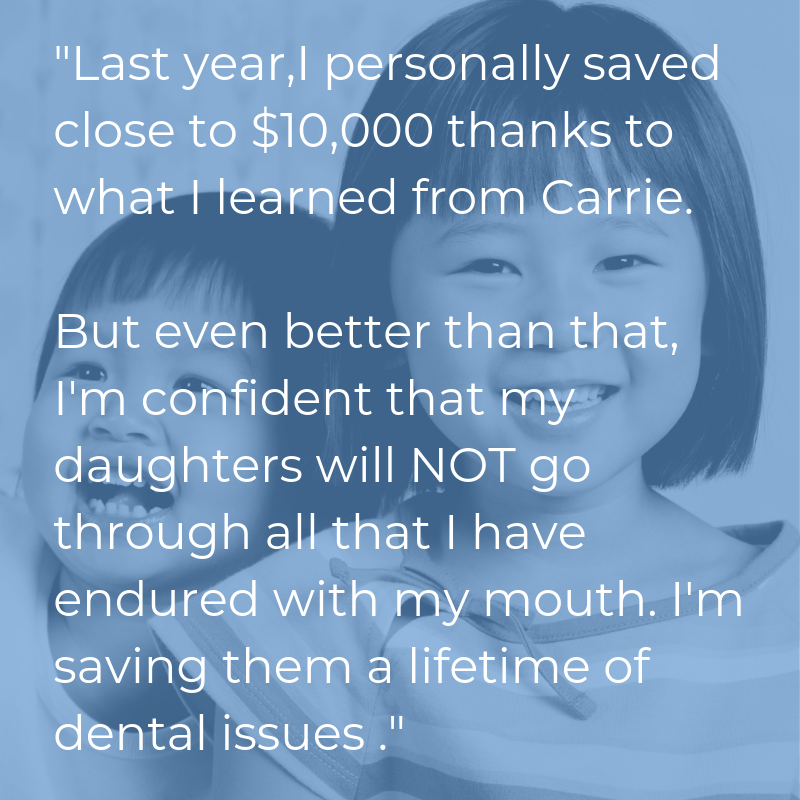 You just need to see, feel, and be able to practice new techniques, and you need to know which products are most effective and why.
That's why I created this program.
Finally, there's a program to teach people how to take care of their teeth and gums at home and break out of the cycle of disease, all without making you feel ashamed or not good enough.
I believe that you can do it.
And I'm here to help you thru the process.
Your Instructor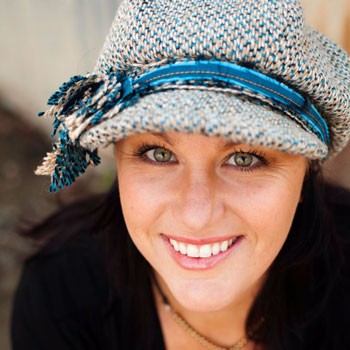 Carrie is a dental hygienist, oral health coach and creator of 21 Days to a Healthy Mouth, an online course that teaches you how to care for your mouth with life long results. Her daily "bite-size" pieces to understanding what it takes to achieve a healthy mouth make it easy to learn and implement at home.
Carrie owns and operates CarrieIbbetson.com, where she studies and recommends natural oral health care products that are effective and deliver great results. She helps families all over the world via Skype, and works locally in person as well as an oral health coach, a personal trainer for your mouth. She is happy to consult with anyone who may have questions. Come say hello on Facebook
"Had a great experience at the dentist today! They said that whatever I have been doing has worked & the decay on my kiddo's top 4 front teeth is arrested! Thank you Carrie Brown Ibbetson for this group, the course & the support! Adding to this: my husband mentioned today that not only is it great that my son's decay has been halted, but we aren't doing any crazy supplements (like the different protocols we've tried in the past)." Emily B

"I've said it 20X before, but I'll say it again, thank you so much for your oral health coaching course, for the first time in my life, I have no new cavities. The dental office said whatever I was doing, keep it up because they never see results like this in their patients! I finally had a dental appointment I feel good about, your course has changed my life! Thank you! Alyssa S.
"I want to thank Carrie for helping us avoid sedation dentistry for my 2 y/o. Cavities have not progressed and have arrested (stopped) in some places. Lots more work to do but we are on the right path thanks to her." Paula R
"Carrie managed to get me all the tools I needed to prepare my son for what was going to happen while filling his molar cavities. AND IT WORKED! No sedation was needed! The dentist was honestly shocked that my 4 year old son was able to sit through all of the fillings with out moving. I credit it all to Carrie for teaching me how to take care of his teeth and prepare him for the procedures. Working with her has been so wonderful and life changing." Angie G
" Carrie your program keep me feeling hopeful and empowered instead of defeated and hopeless when it comes to improving my family's oral health in a practical, proactive fashion!" Betsy F

"In just a week my 10 year old's teeth went from having a yellow film (no matter how much he brushed) to white teeth and they are the best they have looked in a long time; And my gums look pink and healthy instead of red and irritated. I am learning so much and feeling some hope finally!" Celeste H
"The dental hygienist was blown away by how clean my 5 year old sons teeth are. Also my 2 year old with a significant lip tie has no signs of decay. She told me that I was the most "on it" mom she had ever met
so I would like to humbly thank Carrie for all the info and program she has created." Emmy K

Your program seriously is a miracle! In the last 3 months your program has saved my teeth! I can't remember going to a cleaning and not being told that I needed to come back for more fillings. **Happy dance**" Alyssa S
"When I stumbled upon Carrie's Oral Health Coaching program, I had a mouth in crisis:
Cavities galore, bad breath, and early periodontal disease. I knew I had to make a change, so I took a chance on the course. I noticed a difference in my mouth within 1-2 weeks of starting the course and understood why my previous products/techniques had not been working for me. At my next cleaning appointment several months later, my hygienist was stunned by the results: No new cavities and gums that had been restored back to healthy pocket depths. The real kicker came a few weeks later, though, when I had photos taken of my mouth at an orthodontist's office. I couldn't believe that those white, squeaky-clean teeth and firm, light pink gums belonged to me! Suffice it to say, this was the best money I spent last year. Thank you, Carrie, for helping me feel more in control of my fate and for putting me on the path towards living a healthier life!" Sierra J
Are you ready for the next testimonial to be yours?!
Click the "Enroll in Course" button below and let's get started!
Frequently Asked Questions
When does the course start and finish?
The course starts now and never ends! It is a completely self-paced online course - you decide when you start and when you finish.
How long do I have access to the course?
While you are a member you will have unlimited access to the course content as well as the Facebook page where we have weekly live calls that get recorded so that you can view at any time.
What if I am unhappy with the course?
We would never want you to be unhappy! If you are unsatisfied with your purchase, contact us in the first 30 days and we will give you a full refund.
Why hasn't my dentist/hygienist taught me this?
There are a few reasons that you may not be getting this information from your dentist or hygienist. Learning to take care of your mouth is somewhat confusing and time consuming. There are lots of little things to learn, and often there just isn't time for this at your cleaning appointment….and the insurance companies do not pay for time spent on teaching and learning home care. There is a code for it, they just don't pay for it. Most people learn visually, not by being told what they "should do" or "shouldn't do"; instead, they need to see it, practice it and see it again. If you were to to your dental office for a home care instruction appointment, there would be a charge for cleaning the room and the time that it took someone to spend with you, which very few offices have been able to incorporate into the office philosophy
Will this course teach me how to "reverse cavities"?
That is a great question! So much of healing comes from controlling the biofilm acidity on the teeth and pH of the mouth. Balancing the good and bad bacteria in your mouth and controlling the acid spikes will help you determine what can heal in your mouth, and what may require intervention. This course is designed to help you get a better understanding of the things you can do at home to help stop the infection you are dealing with, and how to get better results with the efforts you put in. Many hygienists and dentists refer their patients to this course because they too know the systems you have in place at home are what help to create health over disease and make your dental visits easier and more predictable! The side effect many people report of using this program is the reversal of cavity issues...if that happens to you, we celebrate! Our testimonials page has some pretty remarkable stories - check them out :)
I'm on a budget, do I need a lot of expensive products and tools?
This course can be tweaked to fit most budgets, and we will discuss that at the beginning of the course. Although most products aren't expensive we talk about what products to get first and how to build upon that. For as little as 10$ you could start with brushes, and build as you go. Although it may take you longer, you can still get there!
Will I still need to see a dentist?
There are many life changing things that dental providers can help with - sometimes the challenge comes from not knowing what type of dentists are available, and what type would work best for you. Sometimes it's philosophy of practice, sometimes is materials used or avoided, sometimes it looking at other signs like airway or function. Not all dentists and hygienists are created equally...we help you explore and understand what is available so that you can pick the best provider for your needs when the time is right. I truly believe people should have a dental home they love, trust and feel supported in. If you feel that way too, you're in the right place to explore that!
Who is covered under my "membership" when I sign up?
By joining this course you and your immediate family have access to the entire program, challenges, and support. Your immediate family consists of yourself, a partner and your children :)
I'm not in the USA, can I still use the program
Yes! We have many clients globally and links to products avail in specific countries :) Unfortunately, we cannot ship the starter kit to other countries, but we help with links to products available to you!
Not sure if Oral Health Coaching is for you? Click the link below and lets schedule a time to chat.