This program is ideal for Adults, Children, and Caregivers . . . basically anyone with a mouth ;)
Give me 6 weeks and I'll give you the road-map of how to breakthrough the fear and anxiety of going to the dentist. Together, you'll learn how to heal your families mouths naturally and love your next checkup.
Yes, even during the busy "summer-months" when everything is chaotic and crazy with life. In fact, this may be the BEST 6 weeks to go through the challenge, because cavities typically skyrocket during the summer months from all of the snacking, parties and having fun!
I know that many of you are skeptical about fluoride and often the "special diets" seem too hard. This course is everything BUT those things...in fact, I'll even teach you which special candies help to stop cavities and how to incorporate them into your life if that helps too ;)
The Naturally Heal Your Mouth Summer Challenge is THE ONLY system that helps you break-free from the cycle of mouth disease and dental issues for your family where you get to work with a dental professional that has the time to help you understand why dental issues happen and how to heal them naturally.

Best of all, you get to feel supported in finding answers and natural solutions to your oral health concerns.

And then, finally enjoy a dental check-up!
"I want to thank Carrie for helping us avoid sedation dentistry for my 2 y/o. Cavities have not progressed and have arrested (stopped) in some places. Lots more work to do but we are on the right path thanks to her." Paula R

Here is why you should be jumping up and down about this opportunity:
FINALLY, you can stop running from solution to solution, guru to guru, one fake promise to the next and actually start seeing results. When you invest in The Naturally Heal Your Mouth Challenge, you get access to other people who have healed their mouths, and professionals who believe you can heal your mouth too.
In as little as 6 weeks you will not only learn HOW to work through the process, but you will know how to TEST too, which helps take the guesswork out of the healing process.
Here is why I am doing this:
I remember clearly what it was like having childhood dental issues. My time spent in the dental chair included getting fillings, painful cleanings, my first root canal and crown by 14.
Like most people, I was either shamed for what I was not doing at home (typically flossing), or told that I suffered with "soft teeth" inherited from my family . . . lucky me.
It doesn't have to be this way. You do not have to suffer, and you do not need to have continued disease in your family.
You just need to see, feel, and be able to practice new techniques, and you need to know which products are most effective and why.
That's why I created this program.
Here is what you should do next:
Click on the Enroll in Course button below and get started ASAP! Still looking for more info? Scroll down to see ALL The COURSE CONTENT Below.

Here is why you should do it right now:
Because by this time next week, you will be basking in the knowledge that not can you be the healer of your families mouths but you're also an action-taker and an excuse-buster.

Now THAT is worth every single penny!
Don't you think?

"This program has saved us hundreds if not thousands of dollars in dental work. When strict diet didn't improve our cavities Carrie's program worked wonders to heal our cavities." Joy M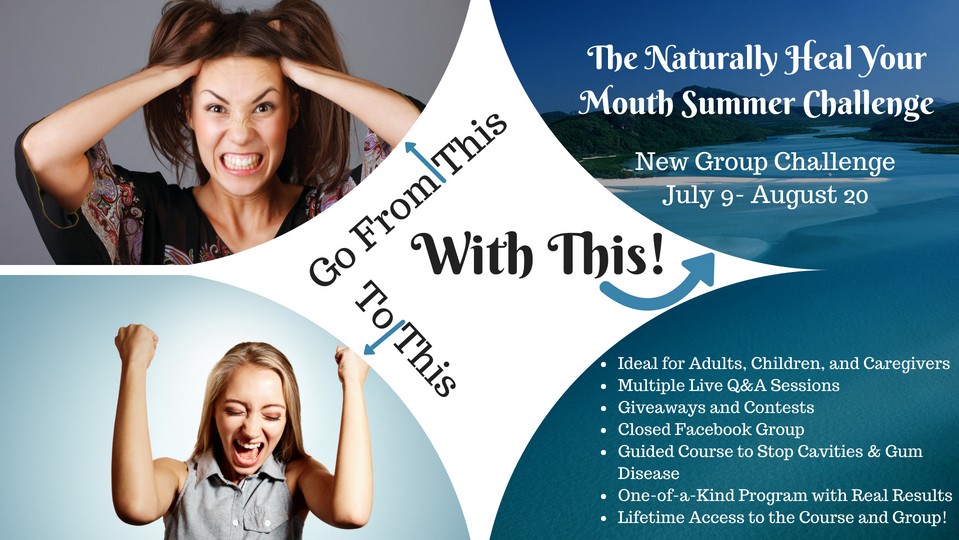 "I've been afraid to go back to a dentist, for fear of what they might find. I'm not afraid now. I know regardless of what they find, I'm using proven techniques, tools, and products that improve ALL of my health, not just controlling tooth decay. This course totally changed how I approach my oral health!" - Carrie V