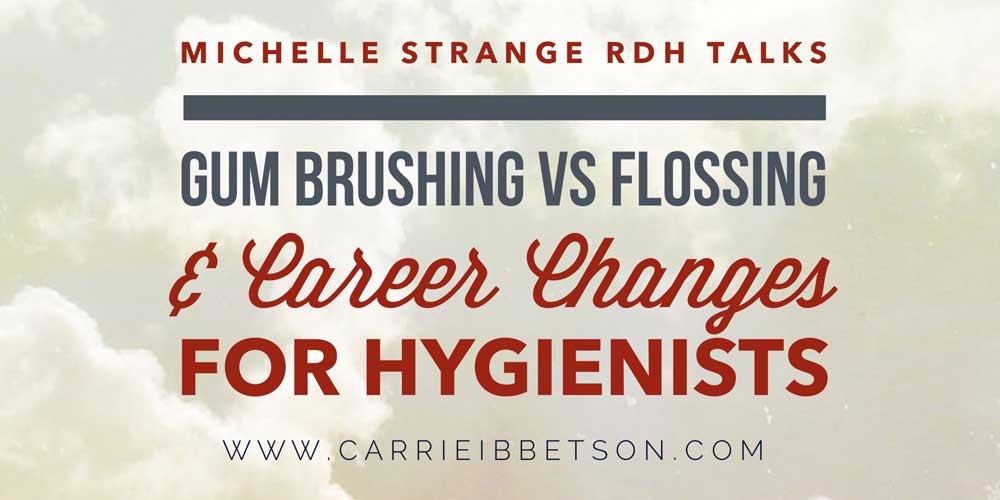 Since 1956, the Swedish company, Tepe, has been creating home care tools for your mouth, focusing on the most challenging areas. What started out as a toothpick has led to over 20 different brushes styled to meet your needs and clean where the typical toothbrush misses.
When toothbrushes and tools miss area, cavities and gum disease happens.
The expense and heartache of being in the dental chair hurts your wallet and your soul.
But that pain can be stopped!
Toothbrushes and mouth tools aren't created equally. They vary from head design, bristle type, bristle density to handle design, and Tepe has spent 50 years perfecting home care tools. They bring health to oral and make home care easy, effective and cost efficient.
Join Michelle Strange, RDH, and I as we talk about what it takes to use tools to clean the different areas of the mouth, and why gum stimulation/massaging is what really helps create a healthy mouth.
Michelle helps the consumer understand why gum stimulation helps protect your teeth and gums, and why flossing may not be the answer for many people (spoiler alert: she does give you alternatives that need to be done if flossing isn't your thing, but you also want a healthy mouth).
After we cover tools and oral health, we switch our conversation to career paths, and discuss how stepping out of her comfort zone has not only skyrocketed her career, but made her a better clinician and employee.
This podcast is not to be missed if you suffer from healthy mouth issues, or are someone who sees patients in an office.
Tepe's products make oral health much more predictable and cost effective.
Proper cleaning prevents build up; build up typically leads to cavities or gum disease, unless the the buildup is stopped.
Show Notes
In today's podcast with Michelle Strange, RDH we talk about:
What is Tepe? Why Tepe?
Warning, I use a single cuss word!
Gum stimulation vs. flossing
Cross training with multiple tools for time efficiency
Frequency of use
Oral Systemic Connection
Links
Tepe Products
Tepe Supreme – the most impressive manual brush
Good for:
Compact tuft brush
People Who Build Up Stain
Lip Tie'd Babies
Mouth Breathers
Gum Massaging
Implant Care Brush Compact Tuft Brush
Good for:
Gaggers
Implants
Hard to reach areas
Good for:
Screw on head with 3 options for firmness
Angled brush with a pointed tuft improves access to difficult-to- reach areas
Ideal for cleaning critical areas around orthodontics and implants
Good for:
Gum massaging
Flossing alternative
In between teeth cleaning
Other Links mentioned