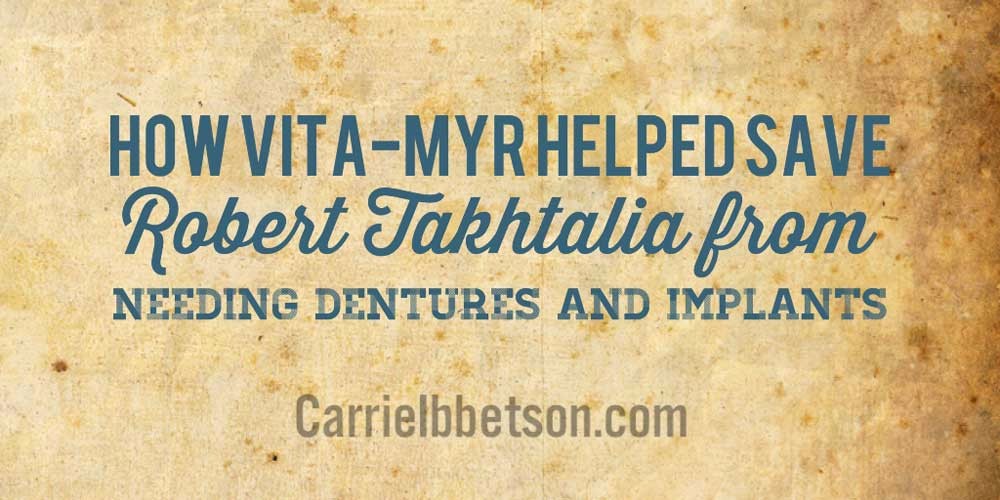 In this session of The Healthy Mouth Healthy Life Podcast, I'm happy to welcome Robert Takhtalia, President of Vita-Myr to the show!
Robert's company specializes in a line of oral health products that use the natural ingredients, Myrrh and Clove oils to maintain healthy teeth and gums.
These ingredients have been used traditionally throughout the ages to clean and disinfect not only the mouth, but many other areas as well. Myrrh is recorded in one of the oldest Egyptian medical texts on record, and has been used for over 700 remedies.
Robert was a successful business owner, who, like many people avoided the dentist for years. He noticed that when life was stressful, he would develop gum infections and bleeding gums.
He'd use some products at home, and the issue would seem to clear up, and he would go about his life. Although, what was happening is that the infection was continuing to destroy the bone around the tooth and causing his mouth to have huge issues.
Finally, he started seeing the dentist and periodontist, only to spend thousands of dollars, and still be told that he was going to lose his teeth.
Listen to Robert's story, and learn how he was able to save his teeth, and how he avoided dentures and implants.
He explains how Vita-Myrs' simple, yet effective all natural mouth rinse saved his teeth, and helped heal his gums. The success of the mouth rinse in retail stores sparked a request for a natural line of toothpaste with equal results.
The result was a line of toothpastes for both children and adults, and one that contains extra xylitol as well.